On August 22nd, the Associated Press reported a small protest in Portland, Oregon. A band of people numbering in the 'hundreds' gathered to protest Bush administration policies ranging from war in Iraq to forestry initiatives.
At some point during this peaceful protest, the police reacted violently to protestors' unwillingness to remain inside so-called First Amendment Zones - remote areas cordoned off and removed from presidential view, where protestors can hold signs without their being seen by either the president they are protesting or the press sent to cover his visit. Protestors are not allowed outside these zones, while presidential supporters are escorted inside.
Pepper-spray and rubber bullets were fired into the crowd. Peaceful demonstrators, middle-aged librarians and mothers with small children in tow, were attacked, people were assaulted by the police under the direction of the Secret Service.
They ran, screaming "We are not the enemy!"
Meanwhile, Donald Joughin, his wife and three children sought to escape the melee. They were at the back of the crowd of protestors, just there to see the event. He turned to a nearby police officer, asking for help, as he had children with him. The officer told him to go the other way, into the fleeing crowd. He again asked to be allowed through the police line so that he could get his children out of danger.
The police officer responded by spraying Mr. Joughin and his three-year-old son with pepper-spray. He then sprayed Donald's wife and 10-month-old baby, completely covering their heads with burning chemicals. As the baby screamed in pain, other officers laughed and offered parental advice - "that's why you shouldn't bring kids to protests." Read about it here
Why was a baby attacked by riot police and sprayed with pepper-spray?
Because George W. Bush demanded it in his fight against the terrorism of difficult questions about his ill-considered policies. Even before September 11th, the First Amendment had been secured behind a chain link fence well out of sight. What happened in Portland on August 22nd isn't the first instance of peaceful protestors being intimidated, harassed, threatened and even illegally detained. It is only the most recent and the worst case of the terrible abuse of executive power that began on September 12th.
The Bush administration has given itself the power to name anyone, even an American citizen, an enemy combatant who can be detained indefinitely in a secret location, without recourse to trial or a lawyer or even knowledge of what they are accused of doing. Family members, lawyers, the press, Congress and even federal judges are not allowed to question why these American citizens are being detained. Attorney General John Ashcroft, acting under President Bush's orders, refuses to hand over any information about the people arrested since September 11th. He is under threat of a subpoena by Republican members of Congress.
The misnamed USA Patriot Act, passed in the aftermath of September 11th to aid law enforcement efforts to combat terrorism, was written before September 11th. With it, the FBI can listen to your telephone calls, read your emails, copy your faxes, open your mail, obtain lists of the books, web sites and magazines you read or purchase, and search your house without telling you. They can arrest you without stating why. Your neighbors, Postal carrier, meter reader and cable guy are encouraged to spy on you.
The attacks of September 11th could have been prevented with the laws and restrictions in place at the time. Nothing in the Patriot Act would have helped to prevent the terrorist attacks, as the evidence they had in hand was ignored or discovered too late to be of any use. The USA Patriot Act was designed for one purpose, and it wasn't to stop Arab terrorists.
The enemy combatants of today are the dirty bombers and Taliban sympathizers. Tomorrow, they will be those who venture outside First Amendment zones.
"We are not the enemy!" the Portland protestors cried as they fled the flying bullets, black batons and clouds of gas. But to George W. Bush, they are enemies. Enemies to be feared, enemies to be suppressed.
And so is a 10-month old baby who just happened to get caught under the iron boot of a tyrant.
Message from George Bush - Who cares what you think?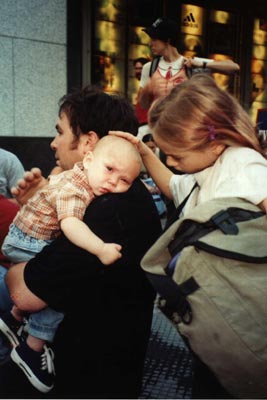 What you do unto the least of these, you do unto me. George W. Bush professes to be a Christian man. WWJD, George? Apologize, offer comfort, and punish those who did this?
Or sit on his ass like the smug ass that he is, counting his bucks and practicing his smirk?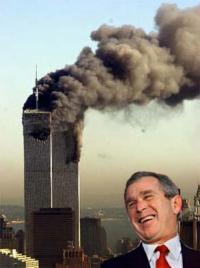 "Lucky me, I hit the Trifecta."
- George W. Bush, on 15 different occassions.